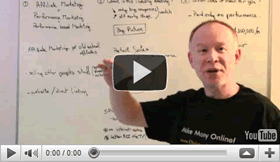 Affiliate Marketing, Where it's Going and What it Means to You.
Affiliate Marketing (also called Performance or Performance-Based Marketing) is a term loosely used to describe the process of selling goods or services by pushing traffic to a site belonging to a vendor with whom the Affiliate Marketer is "affiliated". Most Affiliate Marketers are paid on commission. In other words, if they 'push' a buyer to a site, and that buyer makes a purchase or completes whichever task is desired, the Affiliate Marketer is then rewarded for it (e.g. makes money). The word 'affiliate' usually implies a close working relationship. In this field, however, this is not necessarily so. You may never speak to the vendors with whom you are affiliated; you simply participate in their programs. The relationship can be set up within minutes, and can also be terminated without warning or even explanation.
Of all retail sales, approximately 5% are made online. This means there is plenty of room for growth as more and more people expect an e-commerce option from the vendors they buy from. Perhaps in 20 years, as much as 50% of all sales will be made online. A number of changes could happen overnight that would limit the ability of small business affiliate entrepreneurs. Many vendors are discovering that using their marketing dollars on the web is more cost effective than other forms of marketing such as television and print. You can be part of that shift. You can be one of the people those marketing dollars are shifting to. There is still plenty of room for you!
Being an Affiliate Marketer means you fully embrace the entrepreneurial lifestyle, complete with risks and rewards. There are no guarantees. You can make from $0 to $100,000 per month. Just as in any small business, your income is directly based on your effort – as well as occasional outside forces you may not directly control. Anyone entering this field should be prepared to be their own boss! If this appeals to you, you are in for an exciting ride. Bookmark my website and visit often!
Reference: e-commerce data from the US Census Bureau.