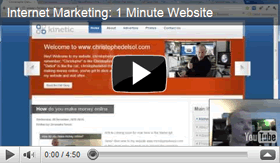 A lot of people feel they can't get into internet marketing or affiliate marketing because they do not have much technical knowledge. This is not the case; in fact I would argue that having too much technical knowledge can be dangerous. Many with "too much" technical knowledge risk spending days, weeks or even months on technical issues of little relevance to making money online. The most important thing about your affiliate site will be its content, basic SEO, and getting traffic. A person with too much technical knowledge has to constantly "pace" themselves to avoid spending too much of their time tweaking and re-tweaking things that will sometimes go unnoticed.
So, if you feel handicapped because you are not techno-savvy, get over it.
I typically only use hosting companies that offer cPanel. That way when I use different hosting companies, I do not have to learn a new "control panel". I like to start some of my affiliate marketing projects with HostGator shared hosting plans; they are affordable, have unlimited everything (no worries) and most importantly they come with cPanel. With cPanel you can install WordPress in seconds and start doing affiliate marketing immediately. Forget about FTPing files and running install scripts that fail. Click the cPanel Fantastico icon and you can install dozens of the most popular open source applications. You can find a demo of cPanel at Hostgator (on the line that says "EASY Control Panel" click Try Demo) or directly from cPanel in the section "Domain Owner Panel".
Do not wait any longer. Make money online now. It's easy to get your website started in minutes. Don't forget if you enter my name (christophedelsol) in the Hostgator coupon code field, you will save $9.94.
To save 25% OFF HostGator hosting enter coupon code: christophe25