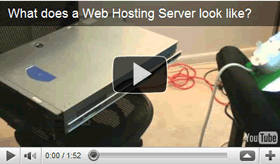 A web or hosting server is simply a high powered computer connected to the internet which houses websites and all files relating to them.  The hardware and software work together to deliver content to web users.
Web Hosting servers do not look like personal computers.  They are flat, rectangular boxes and are generally stored in a data center on large racks, one on top of the other resting on rails which slide in and out. Hosting servers are measured by thickness. Each inch in height is known as a 'unit'.  The term unit is shortened to the letter 'U'.  Therefore, everyone knows that a "1-U hosting server" is one inch high, which is about as high as a pizza box.  A 2-U server is two inches high, etc.
Hosting servers can be physically configured in many different ways.  For instance, some have external hard drives which slide in and out for ease in replacement and to minimize downtime should one power hard drive fail.  Others may have redundant power supplies, multiple hard disks and a variety of other hosting related devices.  Similarly, web hosting servers are configured internally (software) in many different ways, depending on their functions and what features are offered to the hosted customers.
Demystifying what hosting is, what it looks like and how it works can ease your mind when dealing with internet hosts.   You do not need to be an expert (your hosting company is that!)  But it never hurts to get a visual idea of what you are paying for!